Welcome to The Cheech!
To get tickets, click here.
PLAN YOUR VISIT
Joining the RAM family on June 18, 2022 is The Cheech Marin Center for Chicano Art & Culture. A public-private partnership between RAM, the City of Riverside, and comedian Cheech Marin—one of the world's foremost collectors of Chicano art—The Cheech will be the "center of Chicano art, not only for painting, but for sculpture, photography, and video arts."
The 61,420-square-foot center will house hundreds of paintings, drawings, photographs, and sculptures by artists including Patssi Valdez, Sandy Rodriguez, Carlos Almaraz, Frank Romero, Judithe Hernández, and Gilbert "Magú" Luján.
A significant portion of this collection will always be exhibited and can continue to be toured at venues across the nation and throughout the world!
Located in Riverside's downtown historic core adjacent to The Mission Inn Hotel & Spa in the cultural hub of Inland Southern California.
Students and faculty from five local colleges and universities will research and learn about the finest private collection of Chicano art in the U.S.
A catalyst for the grassroots Riverside arts scene that encourages emerging Latino artists throughout the Inland Empire.
Art education and visitor engagement for all ages will be at the core of The Cheech.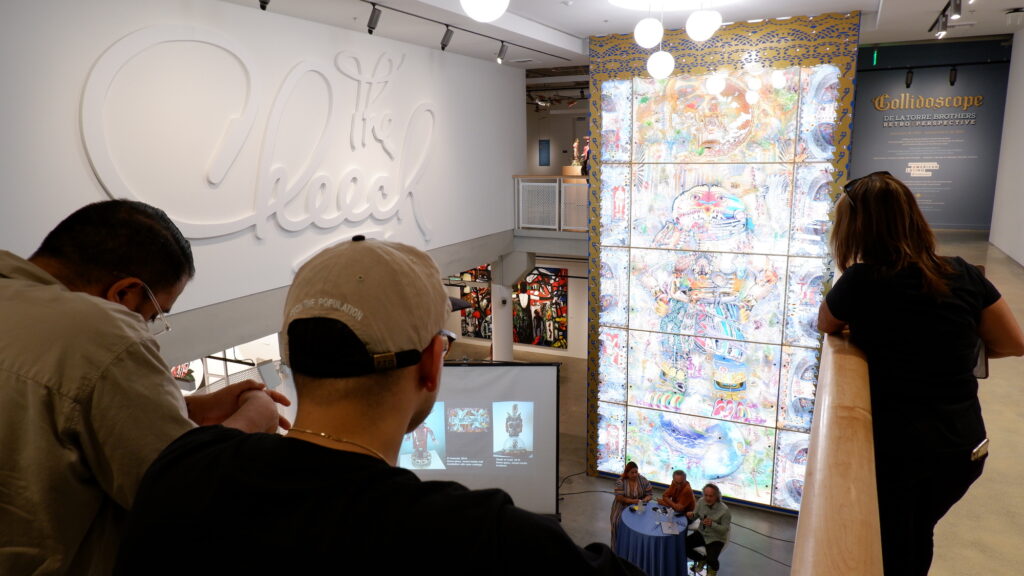 A Masterful Collection of Chicano Art,
Coming to Riverside, CA in 2022.
Donate to The Cheech
Jump right into the project. Join the movement! Every dollar makes a big difference so think about being a monthly sustainer or pitch in what you can afford.
Click GIVE to join the movement today.
You can also show your support for The Cheech with some really nifty goodies. This fun stuff is available at The Blue Door Museum Store inside the Riverside Art Museum. You'll find t-shirts, coffee mugs, chocolates, and more. Spread the word by giving these goodies as gifts!
Interested in giving a gift of stock, mutual funds, or from your IRA instead?
Do you want exclusive naming rights to premier exhibition, event, and educational spaces so your legacy will be honored for years to come? How about additional recognition in exhibition catalogs and marketing outreach, plus VIP access to all opening events and more, customized based on your level of giving?
Want to align your company with The Cheech, demonstrate your commitment to the arts and to Chicano/Latino communities across the nation, plus gain unparalleled access to The Cheech and benefits tailored for your employees and customers?
Contact Drew Oberjuerge, RAM Executive Director, at 951.684.7111 or doberjuerge@riversideartmuseum.org to customize your giving level and corporate benefits.
"Together, we hope to bring every aspect of Chicano art
to this region as well as the rest of the world.
We have something wonderful to give."—Cheech Marin
Location & Parking
The Cheech Marin Center for Chicano Art & Culture of the Riverside Art Museum is located at 3581 Mission Inn Ave., Riverside, CA, 92501, on the corner of Mission Inn Ave. and Orange St.
Metered street and lot parking is available along Mission Inn Ave. Click here for more information and a map of parking areas located downtown.
Many large-scale downtown events occur along Mission Inn Ave. throughout the year. Please be advised that street closures regularly take place during these events, e.g., Festival of Lights, Dia de los Muertos, etc., which will affect parking and drop-off/pick-up. We thank you for your understanding.