Part of Pacific Standard Time: LA/LA, an initiative of the Getty with arts institutions across Southern California.
September 22, 2017 – January 28, 2018
Joint Opening Celebration with UCR ARTSblock: Saturday, September 30, 6 p.m. – 9 p.m.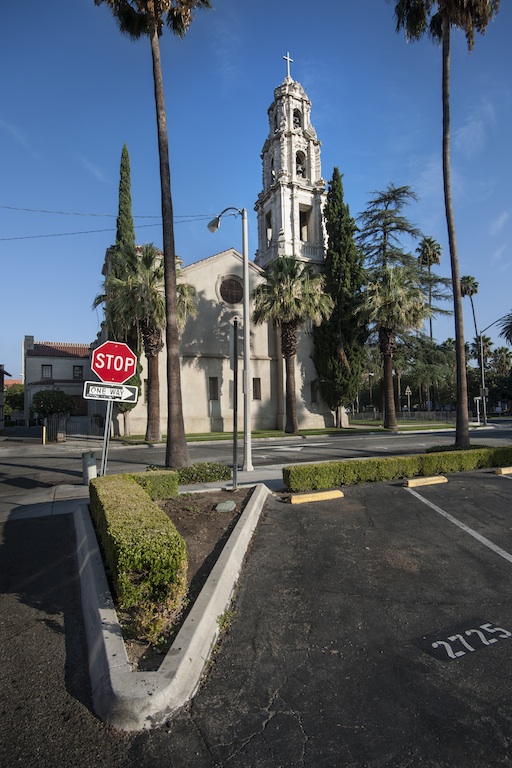 The Spanish Colonial Revival has been part of the aesthetic fabric of Southern California for 100 years. While claiming ties to Colonial Spain and Mexico via their cultural and design traditions, the style was based largely on myth and invention. Influenced by such diverse sources as the 1915 Panama-California Exposition and the popular Ramona novel and pageants, Californian architects and designers adapted Spanish Colonial, Mission, ecclesiastical, and native elements to create romanticized perceptions of California for a burgeoning tourism industry.
Myth & Mirage tours us through the Inland Southern California SCR landscape with its rich stylistic details and exoticized architectural forms, and how mythmakers from the 1880s through the 1930s fabricated a marketable past that was European and civilized to sell the mirage of wealth and paradise to Anglo settlers. The exhibit considers how the role of ethnic Mexicans in SCR architecture has been largely omitted from the historical record, despite the integral part their labor and production of building materials were to the architectural history of the Inland Empire and Southern California. Myth & Mirage also takes into account the implications of the "refried" SCR of the postmodern era.
The Riverside Art Museum will present the first survey of the Spanish Colonial Revival style in the architecture and the decorative arts of the Inland Empire, where this style flourished. Landmarks such as Myron Hunt's First Congregational Church of Riverside (1912–1914) and the historic Mission Inn Hotel are spectacular amalgamations of the historic and the imagined. The exhibition will use architectural and archival materials, decorative arts, paintings, and photographs to explore the style's origins and continuing popularity.
Myth & Mirage is part of Pacific Standard Time: LA/LA, a far-reaching and ambitious exploration of Latin American and Latino art in dialogue with Los Angeles, taking place from September 2017 through January 2018 at more than 70 cultural institutions across Southern California. The presenting sponsor is Bank of America. Major support for this exhibition and publication is provided through grants from the Getty Foundation.
*This two-gallery exhibition will be up in its entirety through January 21, after which one gallery will close to facilitate a smooth deinstall/install for our Winter 2018 exhibitions. The remaining gallery will remain open until end-of-day, January 28.
Myth & Mirage Programming
Programming is free for museum members. Included with paid general admission unless otherwise noted.
Joint Opening Celebration with UCR ARTSblock
Saturday, September 30, 6 p.m. – 9 p.m., Free
Join us for the Opening Reception for RAM's PST: LA/LA exhibit, Myth & Mirage. This reception is organized in conjunction with UCR ARTSblock as they simultaneously celebrate the opening of their PST: LA/LA show, Mundos Alternos.
PST: LA/LA Walking Tour – UCR ARTSblock & RAM
Thursdays, October 5 and November 2, 6:30 p.m. – 8 p.m., Free with a reserved ticket
Explore the exhibitions, Mundos Alternos (UCR ARTSblock) and Myth & Mirage (RAM). Participants will be guided through a docent-led walking tour of the exhibitions, including an excursion downtown to see its Spanish Colonial Revival (SCR) architecture.*
Choose your tour date: October 5 or November 2**
ITINERARY
6:30 p.m. | Meet at UCR ARTSblock (3834 Main St.) to tour Mundos Alternos.
7 p.m. | Depart UCR ARTSblock and walk through downtown for a SCR tour.7:30 p.m. | Arrive at RAM (3425 Mission Inn Ave.) for a tour of Myth & Mirage. This Partnered PST: LA/LA Tour is free with a reserved ticket.
RESERVE YOUR SPACE at www.artsblock.ucr.edu/Program/pst_lala_walkingtour.AFTER THE TOUR: Receive 10% your total bill (including alcohol) with a coupon for Heroes Restaurant & Brewery. Participants must attend the full tour to receive discount coupon. Coupon deal is non-transferable and expires February 4, 2018. *Walking distance between UCR ARTSblock and RAM is 0.3 miles (approx. 7-minute walk).**Same itinerary both dates.Inland Cities Regional Weekend
For info on what other participating PST: LA/LA museums out here in the Inland Cities of Claremont, Pomona, (Riverside!), and Palm Springs are doing during our regional weekend and beyond, like us on Facebook: www.facebook.com/PSTLALAEAST to learn more about our exhibits and all the exhibit-related programming we collectively have as part of PST: LA/LA. Below are RAM's regional weekend events.
Spanish Colonial Revival Photo Safari
Saturday, November 18, 10 a.m. – 12 noon
Join artist Douglas McCulloh on a SCR photo safari across downtown Riverside. It will begin with a fast-moving powerpoint overview at RAM outlining conceptual approaches and general tactics. Then McCulloh will lead a tour with sites ranging from "SCR Old School Classics" to "SCR Mutant Offspring". Please bring your own camera!
Build a Mission Mega-Model!
Saturday, November 18, 10 a.m. – 2 p.m.
Join a team of Mission model makers to build one or several Mission mega-models over the course of one frenzied day at RAM. Learn more about the impact of missions on the lives of missionaries and native peoples. All ages welcome.
What Am I Looking At? Decoding Elements of SCR Architecture
Saturday, November 18, 1 p.m. – 2 p.m.
Join local historian Walter Parks for this introductory lecture on the basic elements of SCR architecture and its historical influences.
Jekel, Spurgeon, and Wilson: IE Architects of the Spanish Colonial Revival
Saturday, November 18, 2 p.m. – 4 p.m.
Join historians Dr. Vincent Moses and Cate Whitmore to learn more about how Riverside took a prominent role in advancing the creation and rise of the Spanish Colonial Revival as regional architecture, as seen through two phases, Mission Revival and Mediterranean Revival. After the lecture, join Vince and Cate for a tour of notable Spanish Colonial buildings in downtown Riverside.
Collectors Seminar: Spanish Colonial Revival Decorative Arts
Sunday, November 19, 2 p.m. – 3 p.m.
Curator Lindsey Rossi will discuss notable, regional collections of Spanish Colonial decorative arts and material culture, as well as highlight decorative collecting trends among some of the earlier, prominent Riverside families. The role of the Mission Inn will also be discussed. After the talk, Lindsey will be available to answer questions about your antiques.
We are sorry to inform you that the Collectors Seminar is cancelled due to the curator's illness. We apologize for any inconvenience and we hope to reschedule this seminar for a future date. Please stop by the museum on Saturday, November 18, for a full day of Myth & Mirage programming. Thank you.
Artswalk @ RAM
First Thursdays, 6 p.m. – 9 p.m., Free
The Riverside Artswalk is a monthly community event that celebrates the diversity of arts and culture at over 22 downtown locations. Join us at RAM for a fun, free evening. For monthly programming details, check us out on Facebook and our website! October – December, we'll have special Myth & Mirage art activities and tours!
First Sundays @ RAM
First Sundays, October – May (except January), 1 p.m. – 4 p.m., Free
First Sundays features free, family-friendly activities at several downtown locations. For monthly programming details, check us out on Facebook and our website! October – December, we'll have special Myth & Mirage art activities and tours!
Docent Tours by RAM Museum Guides
Museum Guides start the conversation with visitors to share insights on the current exhibits, the museum's history, and our Julia Morgan-designed building. Museum Guides are on-site Saturdays & Sundays, 1 p.m. – 2:30 p.m., & First Thursdays, 6:30 p.m. – 8 p.m. Join us for special Myth & Mirage tours every Saturday and Sunday at 1:30 p.m.
Myth & Mirage Exhibition Catalog
The Myth & Mirage: Inland Southern California, Birthplace of the Spanish Colonial Revival exhibition catalog is available for purchase at our Blue Door Museum Store.
For Teachers
The broad range of Pacific Standard Time: LA/LA exhibitions presents an opportunity to connect many students with their heritage and identity, and to strengthen the relationship between schools and museums. For these reasons, Pacific Standard Time: LA/LA Teacher Resource Guides were created to help teachers connect the themes of the Pacific Standard Time: LA/LA exhibitions to class curricula.
Click here to learn more and download the resource guides.
Notes:
CURATOR/ESSAYISTS/TEAM BIOS
Lindsey Rossi,Lead Researcher and Program Coordinator, will produce original research based on archival materials, visits to collections, and oral histories and will collaboratively develop the potential exhibition checklist and author an essay examining the "myth" of Ramona and its relationship to the design impetus and material culture of the Inland Empire. She holds a Master of Arts in Decorative Arts, Design History, and Material Culture from the Bard Graduate Center and a B.A. in Art History from UCLA. She is an independent curator who specializes in the history of design and decorative arts. She has conducted extensive curatorial research for the Metropolitan Museum of Art in New York and worked on design exhibitions and publications at the Los Angeles County Museum of Art, the Bard Graduate Center Gallery, the Museum of Arts and Design, and the British Museum. In 2012, Lindsey curated the well-received Riverside Art Museum exhibition, Julia Morgan: Foundation and Transition which focused on the exceptional Southern California designs of the first licensed woman architect in California, and designer of the present home of RAM.
Aaron Betsky, will research and write a contributing essay for the following topic "Spanish Colonial as the style of the New California elite." A graduate of Yale University with a Master of Architecture and a B.A. in History.
Douglas McCulloh, artist, writer, and curator will take photographs of noted architectural buildings for use in the research team's essays as well as photographs for Susan Straight's piece. He is an honors graduate of the University of California, Santa Barbara and holds an M.F.A. in photography from Claremont Graduate University. He is a three-time recipient of project support from the California Council for the Humanities and has curated fourteen exhibitions, including three for the California Museum of Photography. McCulloh's work is held in numerous institutional collections including the Los Angeles County Museum of Art; Bibliotheque Nationale de France, Paris; Photographic Resource Center, Boston; California Museum of Photography; Laguna Art Museum; Center for the Study of Political Graphics, Los Angeles; and Southeast Museum of Photography, Florida.
Patricia Morton, Associate Professor & Chair of the Department, College of Humanities, Arts & Social Sciences at the University of California, Riverside, will contribute an essay about Spanish Colonial Revival architectural style during the 1960s and the strategic employment of kitsch. Education: Ph.D. Architectural History & Theory 1994, Princeton University, M. Arch. Architecture 1983, Columbia University, B.A. Architecture 1978, Yale University.
Herman Vincent Moses PhD, CEO & Principal, VinCate & Associates Museum and Historic Preservation Consultants and Cate Whitmore Moses, Principal VinCate & Associates Museum and Historic Preservation Consultants will contribute an essay on architectural highlights in the Inland Empire. Former Director of the Riverside Metropolitan Museum, Dr. Moses specializes in the diverse cultural history of Southern California, from the citrus era to the modern megalopolis. He is a practitioner of the New Social History, an authority on the Arts and Crafts Movement in California, and co-author of architectural design guidelines for the Mount Rubidoux Historic District, Riverside. He is a published author with scores of Museum catalogs and publications, and scholarly articles in journals such as Harvard's Business History Review, California History, and the Journal of Church and State,and with his wife Cate Whitmore authored The Victoria Club: A Centennial Edition in 2003, upon the recommendation of UC Riverside Interim Chancellor David Warren. Currently, Moses and Whitmore operate VinCate and Associates, a two-person consulting firm specializing in historic preservation and Museums. Education: Ph.D., U.S. History–University of California, Riverside, M.A., Church-State Studies (History, Religion, Political Science)–Baylor University, Waco, Texas, B.A., History and Religion–Baylor University, Waco, Texas.
Carolyn Schutten, the Community Engagement Curator for the Riverside Art Museum, will be conducting original research on the connections between Mexico and Spanish Colonial Revival in Riverside by investigating local histories of labor and materials, as well as the role of Mexican immigrants and Mexican-Americans in producing Spanish Colonial Revival. Carolyn has a master's degree in urban and regional planning with an emphasis in urban design from California Polytechnic University, Pomona. She also holds a master's degree in public history with an emphasis in museum curatorship and is a PhD candidate in history at University of California, Riverside, where her research centers on the binational development history of the Tijuana River. Carolyn has curated shows on Latin American artists as well as public history exhibitions. She recently curated Tlahualiles: The Glorious Masks of Sahuayo for the Riverside Art Museum.
Susan Straight is a Distinguished Professor of Creative Writing at the University of California, Riverside, where she has taught since 1988. She is a life-long resident of Riverside and many of her essays and novels share her hometown stories with the world. One writer says of Straight, "One major through-line in most of her work: deep roots in the Inland Empire and a profound respect for the people who have also made it their own." For this project, she will author an essay about the contemporary uses of these noted buildings by our community's diverse citizens, such as the popular use of the Mission Inn's chapel for weddings of Chicano couples. She has published ten novels, and two hundred of her essays and articles have been featured in magazines and journals including The New York Times Magazine, The Los Angeles Times Magazine, Harpers, The Believer, The Nation, Reader's Digest, Real Simple, Family Circle, Salon, Oxford American, and Ms. In 2011, Straight received the Gina Berriault Award for Fiction from San Francisco State University; in 2007 The Lannan Award for Fiction, for her body of work; and in 1998 a Guggenheim Fellowship for Fiction. Straight has been a regular commentator on National Public Radio's All Things Considered.