A Preview of and a Fundraiser for The Cheech
LA Originals (Estevan Oriol and Mister Cartoon), January 21, 2021, 6 p.m.–8 p.m., $25
Please join Mister Cartoon and Estevan Oriol—from the documentary LA Originals currently streaming on Netflix—in conversation for our last En Diálogo Zoom on Thursday, January 21, 2021, 6 p.m.–8 p.m. Tickets are $25. All funds raised will benefit The Cheech.
This conversation will be moderated by Emilio Rivera.
Photo of Mister Cartoon by Estevan Oriol.
Click here to register and pay.
This is a series of conversations organized by Unidos. Unidos is a collective of many local and community focused organizations and engaged individuals, together serving the diverse spectrum of the Chicano Latino community in Riverside. Unidos was formed to work together on initiatives that serve us all beyond the valued niche mission of each group.
About Mister Cartoon
Website: www.mistercartoon.com
Instagram: @misterctoons
Twitter: @misterctoons
Born in 1969 in Los Angeles and raised in the harbor area, Cartoon graduated high school in San Pedro in 1988.
Mister Cartoon's expressive style of art is universally recognized and embodies the true soul of Los Angeles street culture. Beginning his career as a graffiti artist in the 1980s, he gained notoriety for his album cover designs, logos, advertisements, custom lowrider car murals, and his one-of-a-kind tattoos.
Mister Cartoon's richly detailed, hand-rendered designs are inspired by the style of tattoos that originated in the streets of 1970s' Los Angeles—fine-line Chicano black-and-grey custom tattoo art. Mister Cartoon took this style of tattooing and brought it into mainstream culture; he is known as a pioneer in the tattoo world as one of the first artists to get global notoriety by tattooing celebrities, athletes, musicians, and actors alike.
His tattoos have been commissioned by many icons of the music and film industry from Dr Dre, 50 Cent, Snoop Dogg, Skylar Grey, Christina Aguilera, Eminem, Justin Timberlake, Justin Bieber, Shia Labeouf, Pharrell, Ryan Phillippe, Usher, Kanye West, YG, and Nas, to DJ Premier and Slash.
His work also adorns professional athletes such as CC Sabathia, Amar'e Stoudemire, Lewis Hamilton, Kobe Bryant, Jonathan Quick, Carlos Boozer, Matt Barnes, Paul Rodriguez, Carl Crawford, and Terry Kennedy, and has come to represent strength, faith, and ferocity on the competition field.
The bonds formed with clients in the tattoo chair have led to some longstanding relationships and unique collaborations. Cartoon's private tattoo studio, Skid Row Tattoo, has become a cultural landmark all in itself. From Thailand to New York, Japan, and the United Kingdom, Cartoon's tattoo residencies continue to take his cultural message worldwide.
Mister Cartoon has partnered with companies such as Microsoft, Nike, Vans, Levis, Supreme, RVCA, Diesel, T-Mobile, Axe, Target, Universal Pictures, and Fox Studios on a variety of successful collaborations.
He has been featured in numerous publications, including The New York Times, The Wall St Journal, Rolling Stone, Complex, XXL, GQ, and many more.
His work has been an integral part of music culture, producing album art work, logos, and identities for the likes of Shady Records, Eazy-E, Paul Wall, Clipse, Cypress Hill, Wale, Zac Brown Band, and many more.
Cartoon's custom muraled car collection and art work has been featured internationally from art shows in London and Japan to the Los Angeles Museum of Contemporary Art. His style and art transcends many artistic mediums.
Mister Cartoon is continually driven to give back to the community that has supported him. He is able to do this through youth outreach programs and collaborations with organizations that are active in the community.
About Estevan Oriol
Website: https://www.estevanoriol.com/
Instagram: @estevanoriol
Facebook: @EstevanOriolPhoto
YouTube: @EstevanOriol
Estevan Oriol is an internationally celebrated professional photographer, director, and urban lifestyle entrepreneur. Beginning his career as a hip-hop club bouncer turned tour manager for popular Los Angeles-based rap groups Cypress Hill and House of Pain, Estevan's passion for photography developed while traveling the world. With an influential nudge and an old camera from his father, renowned photographer Eriberto Oriol, Estevan began documenting life on the road and established a name for himself amid the emerging hip-hop scene.
Nearly 20 years later, Oriol's extensive portfolio juxtaposes the glamorous and gritty planes of LA culture, featuring portraits of famous athletes, artists, celebrities, and musicians, as well as Latino, urban, gang, and tattoo culture lifestyles. He has photographed Al Pacino, Robert Dinero, Dennis Hopper, Ryan Gosling, Chloe Moretz, Marissa Miller, Kim Kardashian, Kanye West, Snoop Dogg, Floyd Mayweather, and others. He has also produced shoots for internationally acclaimed photographers such as Ellen von Unwerth for Sang Bleu and Luca Babini for GQ Italy.
In addition to shooting campaigns for companies including Cadillac, Nike, and Rockford Fosgate, and directing new media projects for My Cadillac Stories, MetroPCS, MTV, and Apple, Estevan has designed album covers and/or directed music videos for artists including Eminem, Cypress Hill, Blink 182, Snoop Dogg, and Xzibit.
His work has been showcased in select galleries and institutions—such as Smithsonian Center for Latino Initiatives, Mesa Contemporary Art Center, Petersen Automotive Museum, and The Museum of Contemporary Art, Los Angeles' Art in the Streets exhibit—concluding with best-selling books of his work: LA Woman, L.A. Portraits, and This Is Los Angeles, capturing dangerous gangsters, lowriders, musicians, celebrities, the L.A. lifestyle, and the alluring beauty of women shot in his uniquely provocative and raw style. His photography has been featured in Complex, FHM, Juxtapoz, GQ, Vibe, Rolling Stone and other publications, with appearances on popular television shows such as, CNN's Anthony Bourdain: UnKnown Parts, CNN's Street Food: Roy Choi, HBO's Entourage, and Last Call With Carson Daly.
About Emilio Rivera
Emilio Rivera is a prime example of how turning one's life around can make dreams a reality. Growing up in a rough and impoverished neighborhood, Rivera turned to wild and reckless behavior during his teen and young adult years. However, he found discipline and true passion through the art of acting. After years of hard work and perseverance, he has become a well-known name in the industry and his resume continues to grow.
A few of Emilio's most notable films include Steven Soderbergh's award-winning film Traffic and David Ayer's Street Kings with Keanu Reeves, Forest Whitaker, and Hugh Laurie. Rivera also played Paco the Hitman in Michael Mann's Collateral, starring opposite Jamie Foxx and Tom Cruise. He can be seen in F. Gary Gray's A Man Apart, starring opposite Vin Diesel, High Crimes opposite Ashley Judd and Morgan Freeman, and Nick Lyon's Bullet opposite Danny Trejo. More recently, he could be seen in the blockbuster film Venom and in 3 From Hell, which was released into theaters in September 2019.
Rivera is perhaps best known for playing the starring role of Marcus Alvarez on FX's Sons of Anarchy, as well as being a series regular on its spin-off, Mayans M.C., which was just picked up for its third season. He has also recurred heavily on the FOX series Gang Related and on Showtime's Weeds. Emilio also recently wrapped his recurring role on the new hit Netflix series On My Block for a second season.
Rivera's hard work and dedication to his career has allowed him to juggle recurring roles on both Amazon's Hand of God and the SyFy channel's zombie apocalypse series, Z Nation, where he plays Hector "Escorpion" Alvarez. He recurred on the second season of Bounce TV's Saints & Sinners and in the films 48 Hours to Live with James Maslow and Tommy Flanagan, Badsville opposite Robert Knepper, and Loca with Danay Garcia. In addition, Emilio has begun developing one of his own feature film projects.
Rivera's decision to learn from his past and pursue his passion has led to continued success and a promise of more to come in the future.
Cheech Marin and Einar & Jamex De La Torre
Moderated by Eduardo Díaz, Director of Smithsonian Latino Center
Thursday, October 15, 2020 October 29, 2020, 6 p.m.–8 p.m., $25 | Please register in advance
We are so pleased to announce that Cheech Marin and artists Einar and Jamex De La Torre will be in conversation via Zoom on Thursday, October 29, 2020, 6 p.m.-8 p.m.! The conversation will be moderated by Eduardo Díaz, Director of the Smithsonian Latino Center. Tickets are $25.
All funds raised will benefit the exhibition and associated publication of Collidoscope: A De La Torre Brothers Retro-Perspective, which will be the inaugural temporary exhibition at The Cheech! This exhibition is organized with the Smithsonian Latino Center and curated by Selene Preciado.
This is a first in a series of conversations organized by Unidos. Unidos is a collective of many local and community focused organizations and engaged individuals, together serving the diverse spectrum of the Chicano Latino community in Riverside. Unidos was formed to work together on initiatives that serve us all beyond the valued niche mission of each group.
After registering, on the day of the event, we will email you the link to the event. Please make sure your Zoom name matches the name you used here so we can quickly move you from the waiting room to the event.
Lalo Alcaraz and Gustavo Arellano, November 19, 2020, 6 p.m.–8 p.m., $25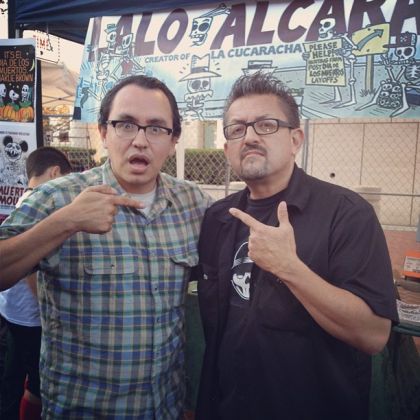 We are please to announce Lalo Alcaraz and Gustavo Arellano in conversation for our next En Diálogo Zoom on Thursday, November 19, 2020, 6 p.m.–8 p.m. Tickets are $25. All funds raised will benefit The Cheech. Registration is now closed. Thank you.
About Lalo Alcaraz
Lalo Alcaraz is an award-winning visual/media artist and television/film writer. A Los Angeles resident, he has been chronicling the ascendancy of Latinos in the U.S. for over a quarter-century. The busy Chicano artist is the creator of the syndicated daily comic strip La Cucaracha seen in the Los Angeles Times and other newspapers nationwide. Alcaraz is founder and Jefe-in-Chief of POCHO, which started out as a Xeroxed zine in the last century and now ranks a leading Latino satire website. A prolific political cartoonist, Lalo is the winner of six Los Angeles Press Club awards for Best Editorial Cartoon. He was an editorial cartoonist for the L.A. Weekly from 1992–2010 and now creates editorial cartoons in English and Spanish for Andrews McMeel Syndication, Daily Kos, and various newspapers, including Philadelphia's Al Dia News.
His work has appeared on 60 Minutes, CBS News, NBC, Univision, and in hundreds of publications. Lalo's graphic novel and cartoon books include the New York Times bestseller A Most Imperfect Union, Latino USA: A Cartoon History, 15th Anniversary Edition; Migra Mouse: Political Cartoons On Immigration; and La Cucaracha.
Author of the forthcoming graphic history novel, UNIDOS, about the historic civil rights group formerly known as the National Council of La Raza (now UnidosUS), Lalo is also a highly sought-after Hollywood consultant and producer.
In 2014 he was a staff writer and producer on the animated Seth MacFarlane-led TV show Bordertown on Fox. He next served as cultural consultant on the Oscar-winning Day of the Dead-themed Pixar movie COCO. Alcaraz was recently cultural consultant, consulting producer, and writer on the animated series The Loud House and now on Nick's The Casagrandes. Alcaraz is the co-host of KPFK satirical talk show, The Pocho Hour of Power, heard on L.A.'s Pacifica station KPFK 90.7 FM. He is a former illustration faculty member at Otis College of Fine Art & Design in Los Angeles.
He is a graduate of San Diego State University (BA in Art) and UC Berkeley (Master of Architecture). Lalo was born in San Diego, California to Mexican immigrant parents from Sinaloa and Zacatecas.
Website: https://laloalcaraz.com/ | Instagram @laloalcaraz1 | Facebook @lacucaracha | Twitter @laloalcaraz
About Gustavo Arellano
Gustavo Arellano is a Mexican with glasses con su pluma en su mano who writes pure DESMADRE about everything and is based in Orange County, California.
Arellano is a columnist for the Los Angeles Times, covering Southern California everything and a bunch of the West and beyond. He previously worked at OC Weekly, where he was an investigative reporter for 15 years and editor for six, wrote a column called ¡Ask a Mexican!, and is the author of Taco USA: How Mexican Food Conquered America. He's the child of two Mexican immigrants, one of whom came to this country in the trunk of a Chevy.
Website: https://www.gustavoarellano.org/ | Instagram @gustavo_arellano | Facebook @gustavoarellanowriter | Twitter @GustavoArellano
***
This is part of a series of conversations organized by Unidos. Unidos is a collective of many local and community focused organizations and engaged individuals, together serving the diverse spectrum of the Chicano Latino community in Riverside. Unidos was formed to work together on initiatives that serve us all beyond the valued niche mission of each group.
Registration is now closed. Thank you.
After registering, on the day of the event, we will email you the link to the event. Please make sure your Zoom name matches the name you used here so we can quickly move you from the waiting room to the event.
Cheech Marin and Carlos Santana, December 17, 2020, 6 p.m.–8 p.m., $25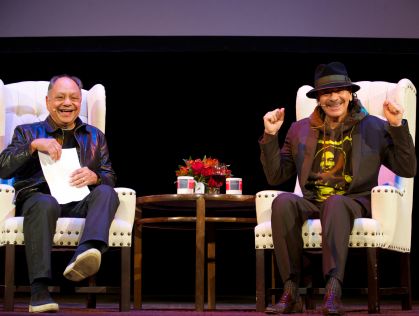 We are pleased to announce Cheech Marin and Carlos Santana in conversation for our next En Diálogo Zoom on Thursday, December 17, 2020, 6 p.m.–8 p.m. Tickets are $25. All funds raised will benefit The Cheech.
This conversation will be moderated by KCSM 91.1 FM Music Director Jesse "Chuy" Varela.
Click here to register.
About Carlos Santana
Delivered with a level of passion and soul equal to the legendary sonic charge of his guitar, the sound of Carlos Santana is one of the world's best-known musical signatures. For more than four decades-from Santana's earliest days as a groundbreaking Afro-Latin-blues-rock fusion outfit in San Francisco-Carlos has been the visionary force behind artistry that transcends musical genres and generational, cultural and geographical boundaries.
Long before the category now known as "world music" was named, Santana's ever-evolving sound was always ahead of its time in its universal appeal, and today registers as ideally in sync with the 21st century's pan-cultural landscape. And, with a dedication to humanitarian outreach and social activism that parallels his lifelong relationship with music, Carlos Santana is as much an exemplary world citizen as a global music icon.
To date, Santana has won 10 GRAMMY® Awards, including a record-tying nine for a single project, 1999's Supernatural (including Album of the Year and Record of the Year for "Smooth") as well as three Latin GRAMMY's. In 1998, the group was ushered into the Rock and Roll Hall of Fame, whose website notes, "Guitarist Carlos Santana is one of rock's true virtuosos and guiding lights."
Among many other honors, Carlos Santana received Billboard Latin Music Awards' 2009 Lifetime Achievement honor, and, he was bestowed Billboard's Century Award in 1996. On December 8, 2013 he was the recipient of the 2013 Kennedy Center Honors Award. Rolling Stone has also named him #15 on the magazine's list of the "100 Greatest Guitarists of All Time" noting that "Santana's crystalline tone and clean arcing sustain make him the rare instrumentalist who can be identified in just one note." And, with the 2014 release of Corazón, Santana surpassed the Rolling Stones and is one of only two music acts in Billboard history to score at least one Top Ten album for six consecutive decades from the 1960s on.
Carlos executive produced the Peter Bratt-directed documentary film DOLORES, about the life and work of Dolores Huerta, who is among the most important, yet least known, activists in American history. An equal partner in co-founding the first farm workers unions with Cesar Chavez, her enormous contributions have gone largely unrecognized. Dolores tirelessly led the fight for racial and labor justice alongside Chavez, becoming one of the most defiant feminists of the twentieth century-and she continues the fight to this day, at 87. With intimate and unprecedented access to this intensely private mother to eleven, the film reveals the raw, personal stakes involved in committing one's life to social change.
The arc of Santana's performing and recording career is complemented by a lifelong devotion to social activism and humanitarian causes. The Milagro Foundation, originally established by Carlos Santana and his family in 1998, has granted more than seven million dollars to non-profit programs supporting underserved children and youth in the areas of arts, education and health. Milagro means "miracle," and the image of children as divine miracles of light and hope-gifts to our lives-is the inspiration behind its name.
—Excerpt from https://www.santana.com/carlos-santana-biography/
About Cheech Marin
Best known as one half of the hilariously irreverent, satirical, counter-culture, no-holds-barred duo Cheech and Chong (now on tour), Cheech Marin is a paradox in the world of entertainment. Cheech is an actor, director, writer, musician, art collector, and humanitarian, a man who has enough talent, humor, and intelligence to do just about anything. He is truly a multi-generational star. To this day, Cheech and Chong films remain the number one weekend video rentals, and Cheech is widely acknowledged as a cultural icon. Cheech's long-awaited memoir entitled Cheech is Not My Real Name…But Don't Call Me Chong! was released in 2017.
Cheech (real name Richard) Marin was born in South Central Los Angeles and met Tommy Chong in Vancouver, British Columbia as a political refugee. The duo moved back to Los Angeles and proved to be "entertainment gold." Six of their albums went gold, four were nominated for Grammys, and Los Cochinos won the 1973 Grammy for Best Comedy Recording. The critically acclaimed duo made a fluid transition to films, starring in eight features together.
During his split with Chong, Cheech wrote, directed, and starred in the comedy Born In East L.A. He appeared in over 20 films, including his scene-stealing role in Tin Cup. On television, Cheech was a sitcom regular before joining Don Johnson on the highly successful CBS drama Nash Bridges (1996-2001). He later had a recurring role on the hit NBC show, Lost, and in recent years, he guest-starred on Rob and Jane the Virgin. Through his popular Disney Pixar animation film roles (Oliver & Company, The Lion King, Cars, and more) and as an author of children's books such as Cheech the School Bus Driver, Cheech is also a favorite with kids and parents around the world.
Cheech is recognized today as a preeminent Chicano art advocate. In the mid-1980s, he began developing what is now arguably the finest private collection of Chicano art. Much of it formed the core of his inaugural exhibition Chicano Visions: American Painters on the Verge, which broke attendance records during its groundbreaking 15‐city tour during 2001‐2007 to major art museums across the United States. He states, "Chicano art is American art. My goal is to bring the term 'Chicano' to the forefront of the art world."
Furthering his goal to introduce Chicano art to a wider audience, Marin has entered a partnership with the City of Riverside and Riverside Art Museum to create The Marin Center for Chicano Art, Culture, and Industry. Slated to open in 2021, The Cheech will become the permanent home for his more than 700 works of Chicano art, including paintings, sculptures, and photography; collectively, the most renowned Chicano art collection in the United States.
—Excerpt from https://cheechmarin.com/bio/
About Jesse "Chuy" Varela
For KCSM 91.1 FM's Music Director Jesse "Chuy" Varela, music roots have run deep. Currently, Chuy is celebrating 20 years as Music Director at KCSM Jazz 91, the San Francisco Bay Area's Jazz radio station.
From an early age, Chuy was fascinated by music, playing the guitar in Mexican bands and in the army. He attended Cal State Hayward where he majored in music. But after realizing that music would probably not be a lucrative career, he switched to mass communications where he studied print, television, and radio.
In 1980, Chuy started volunteering at KBBF in Santa Rosa, the first bilingual radio station in the country. From there, he went on to KPFA, first as a volunteer, then as Director of the Public Affairs Dept., and finally as Music Director in the mid-90's. At KPFA, he produced news-oriented public affairs programming and was awarded a Minority Training Grant by the Corporation for Public Broadcasting to study at the Center for Investigative Report in San Francisco and began contributing as a freelance reporter to National Public Radio, Pacifica Network News, and Radio Bilingue.
At KPFA, he also produced cultural arts programming co-hosting La Onda Bajita—Radio Del Barrio, a Chicano collective dedicated to diverting young Raza from violent behavior and enriching cultural pride; Ahora, a community affairs program; and produced numerous special broadcasts.
While at KPFA, he was simultaneously working at KJAZ radio, the pioneer jazz radio station, first as an intern, then as a production assistant and recording engineer, working with Bob Parlocha on "On The Scene", and with Bud Spangler on "The Turk Murphy Show" and "Sunday Night Suites". In 1984, he began hosting "The Latin Jazz Show".
When KJAZ went off the air in 1996, Chuy accepted a Sunday afternoon position at KCSM and introduced Bay Area listeners to "The Latin Jazz Show". Since then, he has attracted a large and loyal audience who have come to depend on his expertise and sunny disposition. In 2000, he became KCSM's Music Director and began co-hosting "Jazz in the Afternoon".
In addition to his shows, Chuy is also a freelance music writer who has contributed liner notes to many albums and reviews to various newspapers and periodicals, including the San Francisco Chronicle, SF Bay Guardian, The SF Weekly, Eastbay Express, Latin Beat Magazine, NY Latino, Jazz Times, among others.
***
This is part of a series of conversations organized by Unidos. Unidos is a collective of many local and community focused organizations and engaged individuals, together serving the diverse spectrum of the Chicano Latino community in Riverside. Unidos was formed to work together on initiatives that serve us all beyond the valued niche mission of each group.
Photo by: Gary Leonard
About Unidos and the En Diálogo Series
Unidos, a group committed to furthering the Chicano Latino Community in Riverside, is launching a series of conversations called "En Diálogo: Unidos Presents | Unveiling Chicano Art and Culture, A Preview of The Cheech." All proceeds from the conversations will benefit an inaugural exhibition of the work of Einar and Jamex De La Torre at the forthcoming Cheech Marin Center for Chicano Art & Culture of the Riverside Art Museum slated to open late Fall 2021.
"I am grateful to Unidos for their support of The Cheech," says Cheech Marin. "I'm now a fundraiser for life to ensure the center will continue to advocate for Chicano artists and share the importance of the Chicano school of art. I deeply appreciate all of the work to raise the money that is required to organize and promote programming, operations, and more.
Since coming together in December 2017, Unidos has raised over $250,000 for The Cheech, specifically for the capital campaign to fund the renovation of the former main library and future home of The Cheech. They had originally planned to raise these funds over three years, but surpassed their goal within one year. Their inaugural gala in September 2018, Celebrando Chicano Art and Culture honoring Cheech Marin and featuring George Lopez and Dolores Huerta, helped them exceed their goal. Since then, they also organized a benefit concert for The Cheech featuring Grammy-nominated Flor de Toloache, along with Victoria La Mala, in January of this year at the Fox Performing Arts Center.
"Although we had exceeded our pledge and in a much shorter time than expected, our commitment was not just raising the funds, but rather to seeing The Cheech through to its opening date and continuing our support beyond the opening," says Ninfa Delgado, chairperson of Unidos. "The realization of The Cheech is significant not only in the demonstration and sharing of the history and contributions of the Chicano Latino community in the United States as documented by artists, but we hope that anyone who has ever worked toward giving voice and a presence to those who have struggled against invisibility can identify with what The Cheech will bring. It is more than a museum, and it is for everyone, inviting us all into a movement of inclusivity, understanding, and forward-thinking."
After kicking off with the series with Cheech Marin and Einar & Jamex De La Torre, additional events in this virtual series will include Lalo Alcaraz in conversation with Gustavo Arellano on November 19, 6 p.m.–8 p.m., Cheech Marin with Carlos Santana on December 17, 6 p.m.–8 p.m., and LA Originals—Estevan Oriol and Mister Cartoon—on January 21, 2021, 6 p.m.–8 p.m. Tickets for these events will be made available soon. Tickets for each conversation are $25.
"Unidos demonstrates the incredible passion and commitment behind establishing The Cheech," says Drew Oberjuerge, Executive Director of the Riverside Art Museum.
Unidos will also be launching an online auction this winter. The auction will feature a limited-edition lithograph from Einar and Jamex De La Torre, an original piece of Cheech fan art autographed by Cheech and from his personal collection, paintings and sculptures and other items. Follow The Cheech or Unidos on social media for announcements.
Members of Unidos include:
California Hispanic Chambers of Commerce
Greater Riverside Hispanic Chamber of Commerce
Latino Network
LULAC of Riverside Council 3190
MR Consulting
National Latino Peace Officers Association IE Chapter
Orale Press Publishing
Riverside Art Museum
Spanish Town Heritage Foundation
UCR Chicano Latino Alumni
UCR Chicano Student Programs
Uniko Media Group
VFW Villegas Chapter
To learn more about The Cheech, click here.
To learn more about Unidos, click here.
 Thank you to the sponsors: