Part of Cesar Chavez Days 2017, presented by the Latino Network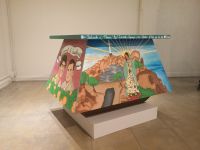 The Community Altar Project was inspired by an altar created by Colorado artist Emanuel Martinez. His altar, currently housed in the Smithsonian American Art Museum, was used in the Mass in 1968 when Cesar Chavez broke his 25-day fast.
Riverside-based artist Cynthia Huerta created her own altar, working closely with five different community groups: the congregants at Our Lady of Guadalupe Shrine in the Eastside, the participants of Tesoros de Casablanca, Moreno Valley College students, Riverside Latino Network members, and justice-involved youth on probation who are part of our Creative Horizons program.
Both Martinez and Huerta will be in attendance to talk, as well as participants. Please join us for the free event.
Cesar Chavez Week Membership Special!
March 23 – April 9, 2017
Become a new RAM Family level member for $68 (regular price $100) to commemorate the year artist Emanuel Martinez created the altar that Cesar Chavez broke his 25-day fast.
Family level membership gets you:
Unlimited annual admission for up to 2 adults and 2 children
10% discount on all Museum Store purchases
Discount on Youth and Adult Art classes, when offered
And discounts or free admission to select events