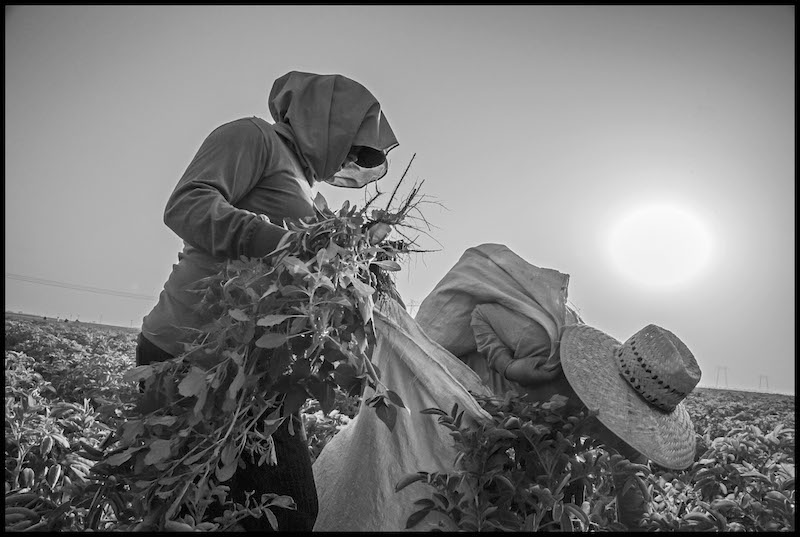 Exhibition: January 24 – April 11, 2017
Opening Reception: Thursday, February 2, 2017, 7 p.m. – 9 p.m.
Up and down the Pacific Coast, the communities of indigenous migrants who harvest our food have been rising in protest, organizing strikes from Baja California to Washington State. Their wages have been cut and these workers are living in desperate conditions – sometimes even outside in tents and cars.
Farm workers are among California's poorest residents. A third make less than minimum wage. In San Diego, Santa Rosa, Coachella, and Salinas, migrants sleep in shacks or tents under trees, or crowd ten to a room in trailer parks. Rural homelessness and poverty are widespread, but invisible. This project, In the Fields of the North, makes them visible, demonstrating who is responsible for producing the food we all eat and showing that social justice problems are suffered in common by both urban and rural communities.
In the Fields of the North builds on a long-term partnership between David Bacon, a photographer and journalist, and California's legal aid service for farm workers, California Rural Legal Assistance (CRLA), and a leading organization of indigenous migrants, Binational Front of Indigenous Organizations (FIOB).
The project's mission is to use photographs and narrative oral histories to reduce anti-immigrant hysteria. Its purpose is to help win respect for the culture and labor of the indigenous workers who produce the food we eat, providing a way for people in urban areas especially, to whom migrant indigenous workers are basically invisible, to understand their reality.
Over the span of 15 years, the project has produced over 10,000 digital images and recorded over 100 interviews. They have been used by FIOB and CRLA to advocate for the rights of migrants and farm workers. They have been published in three books by David Bacon and used in many newspaper and magazine articles.
The project has produced traveling exhibitions of photographs and oral history panels, using them as venues in which migrant community members can discuss their experiences and problems, and in which urban and rural activists can exchange experiences and organize for social justice.
David Bacon's images of farm workers are a striking revelation of the labor necessary to put food on America's tables. Black and white images provide a glimpse into the lives of those who work in the fields and capture both the struggle and the hope of their existence.
Bacon is a journalist and photographer whose work has documented the connections between labor, immigration, and the impact of the global economy on workers. In addition to exhibitions across the United States, his work has also appeared in The Nation, Los Angeles Times, and the San Francisco Chronicle.
Community Altar Project
Included in this gallery space is the Community Altar Project, which was completed by artist Cynthia Huerta and five community groups. For more information, click here.
Related exhibition programming:
Please join us on Wednesday, April 5, at 6 p.m. for a free lecture by David Bacon. Copies of his book, In the Fields of the North, will be available for purchase.
This exhibition is generously sponsored by:

Ramirez y Ramirez