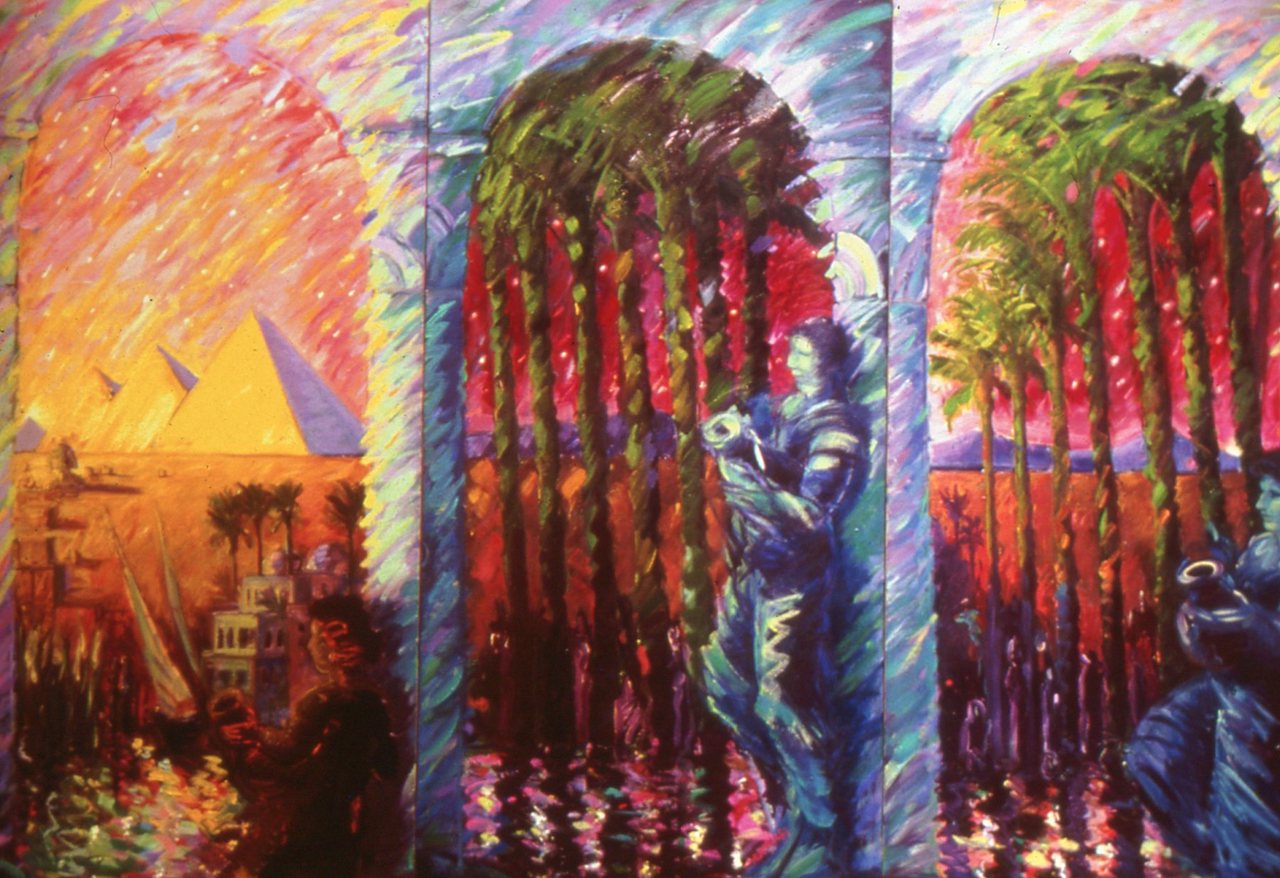 No-cost public viewing days brought to you by Macy's: January 18–22, 2020 (Closed the 20th)
This special preview introduces a selection from Richard "Cheech" Marin's initial gift of eleven works, which begins the transfer of works from Marin to establish the Cheech Marin Center for Chicano Art, Culture, and Industry of the Riverside Art Museum. Significant in its content, this first gift consists of four renowned and widely exhibited artists: four works by Carlos Almaraz, three works by Frank Romero, two works by Gronk, and two works by Einar and Jamex de la Torre (not currently on display).
Carlos Almaraz was involved with the arts and activism of Los Angeles, recognized through his participation in César Chávez's farm workers' movement in the 1970s and his role as a founding member of the Chicano art collective Los Four.
Frank Romero was also part of the group Los Four, leading him to embrace his Chicano identity. His brightly colored paintings celebrate the Los Angeles culture of lowriders and rascuache, the art of making something beautiful out of the ordinary.
Gronk was a founding member of ASCO, a multi-media arts collective based in Los Angeles, which was active in the 1970s and 1980s, as well as one of the founders of the Los Angeles Contemporary Exhibitions (LACE) in 1977.
Einar and Jamex de la Torre navigate the complexities of their emigrational experience and contradicting bicultural identities due to their current life and practice both in Mexico and San Diego. They have a signature style featuring mixed media work with blown-glass sculpture and installation art, and have recently been experimenting with lenticular printing and photomural installations. The works by the de la Torre brothers are not included in this initial exhibition.
Exhibición especial de la colección de Cheech Marin
Esta exhibición introduce una selección del regalo inicial de once obras de Richard "Cheech" Marin, el cual inicia el traslado de obras de Marin para establecer el Cheech Marin Center for Chicano Art, Culture, and Industry del Riverside Art Museum. Este regalo consiste en cuatro artistas renombrados y extensamente exhibidos, con cuatro obras de Carlos Almaraz, tres obras de Frank Romero, dos obras de Gronk y dos obras de Einar y Jamex de la Torre.
Carlos Almaraz participó en el arte y activismo de Los Ángeles, lo cual es reconocido por su involucramiento en el movimiento de los trabajadores agrícolas de César Chávez en la década de 1970 y su rol como miembro fundador del colectivo de arte Chicano llamado Los Four.
Frank Romero también fue miembro del grupo Los Four, lo que lo llevo a aceptar su identidad Chicana. Las pinturas de colores vivos de Romero celebran la cultura de Los Ángeles de lowriders y "rascuache," el arte de hacer algo hermoso fuera de lo común.
Gronk fue miembro fundador de ASCO, un colectivo de artes multimedia basado en Los Ángeles que estuvo activo en la década de 1970 y 1980. También fue uno de los fundadores de Los Angeles Contemporary Exhibitions (LACE) en 1977.
Einar y Jamex de la Torre navegan las complejidades de la emigración y de las identidades biculturales contradictorias debido a su vida y práctica en México y San Diego. Tienen un estilo distintivo con obras de técnica mixta, con esculturas de vidrio soplado e instalaciones de arte. Recientemente han experimentado con impresiones lenticulares e instalaciones de foto murales. Las obras de los hermanos de la Torre no están incluidas en esta exhibición inicial.
This free public preview is brought to you by: