Exhibition: January 16 – May 15, 2016
Opening Reception: Saturday, January 23, 2016, 6:00 p.m. – 8:00 p.m.
NEW! Pedro Friedeberg Artist Talk: Monday, April 11, 2016, 6:00 p.m. No-Host Happy Hour, 6:30 p.m. Artist Talk $20 (RAM Members $10)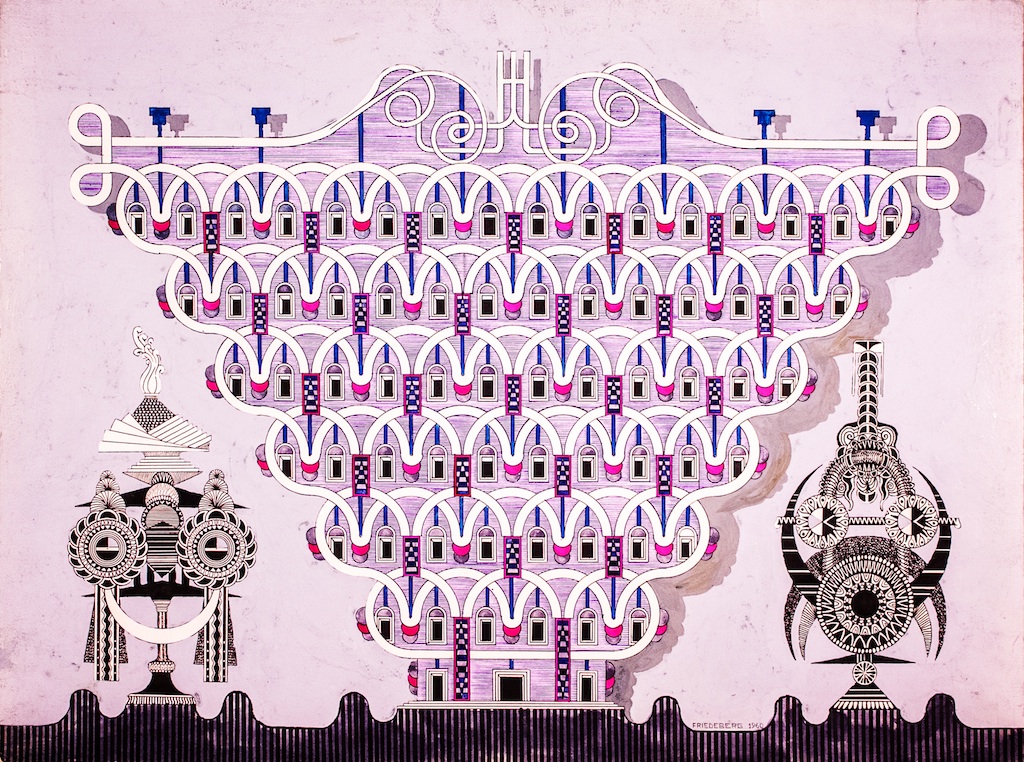 I get up at the crack of noon and, after watering my pirañas, I breakfast off things Corinthian. Later in the day I partake in an Ionic lunch followed by a Doric nap. On Tuesdays I sketch a volute or two, and perhaps a pediment, if the mood overtakes me. Wednesday I have set aside for anti-meditation. On Thursdays I usually relax whereas on Friday I write autobiographies."
– Pedro Friedeberg
Pedro Friedeberg (1936-) is one of the most prominent artists working today in Mexico and widely considered the last living surrealist in the country. His artwork is irreverent, humorous, and colorful, an imaginary space of ornate architecture and extraordinary anthropomorphic animals. Impossible Worlds: The Early Works of Pedro Friedeberg explores the fanciful, imaginative, and humorous drawings created by this prominent Mexican artist in the early phase of his career (1953-1960). The exhibition features approximately 40 works on paper, rare images that have not been previously exhibited. Impossible Worlds provides new insights into the development of Friedeberg's unique vision, equally inspired by Surrealism, Mexican culture, and an eclectic blend of European history and myth.
Guest Curator:
Dr. Terri Geis is curator of academic programs at the Pomona College Museum of Art. Geis's research focuses on post-revolutionary Mexico and intersections between Surrealism and the Americas. Recent projects and publications include "In Wonderland: The Surrealist Adventures of Women Artists in Mexico and the United States"(LACMA, 2012); an essay in Surrealism in Latin America: Vivísimo Muerto (Getty Research Institute, 2012); and contributions to Catalogo comentado del acervo del Museo Nacional de Arte. Pintura, Siglo XX (Museo Nacional de Arte, Mexico, 2014). Forthcoming articles include "Myth, History and Repetition: André Breton and Vodou in Haiti," (Johns Hopkins University Press). Geis is also working on an exhibition on the Mexican muralist José Clemente Orozco with funding through the Getty's LA/LA initiative.
Pedro Friedeberg Artist Talk
Join internationally-acclaimed artist Pedro Friedeberg in conversation with curator Terri Geis regarding his early work, which is the subject of Impossible Worlds: The Early Works of Pedro Friedeberg, currently on exhibit at the Riverside Art Museum. UCR's Aleca Le Blanc will moderate.
The evening begins with a no-host Happy Hour at 6:00 p.m. The artist talk begins at 6:30 p.m. and costs $20 per person. RAM Members $10.
Click here to reserve your seat for Pedro's visit!
Images courtesy of Teeter Photography Co.
Thank you to our generous sponsors:
Georgia Hill
Bob Harris & Susan Rothermund
Betty & Walter Parks
Steve & Cathy Morford
Susan Rainey & John Collins
Connie & Roger Ransom