Exhibition: July 10 – September 26, 2015
Opening Reception: Friday, July 10, 2015, 6:00 p.m. – 8:00 p.m.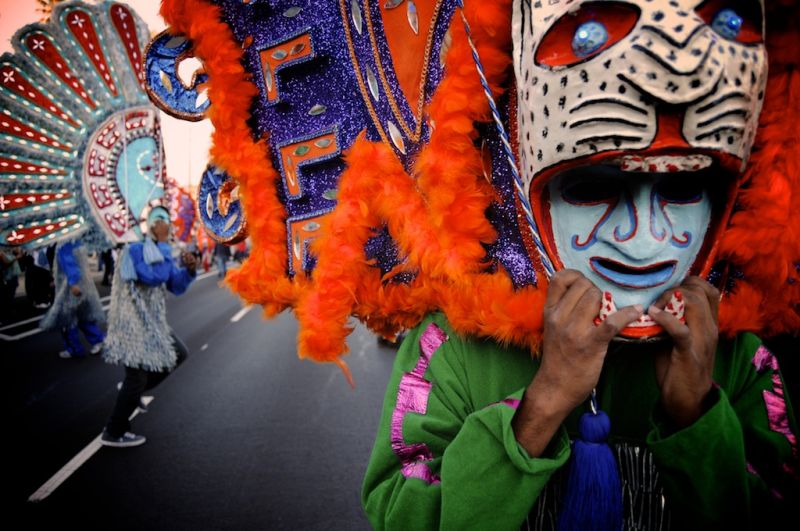 In July 2013, civic artist Cosme Cordova of Division 9 Gallery and folk artist Martin Sanchez of Tio's Tacos collaborated with the City of Riverside, the Riverside Arts Council, and the City of Sahuayo de Morelos in Michoacán de Ocampo, Mexico, to bring the first Tlahualiles Festival to downtown Riverside. The Riverside Art Museum is thrilled to announce an upcoming exhibition of the masks, making of, and artists of the much loved Tlahualiles Festival.
The Tlahualiles Festival in Sahuayo, Michoacán, is an annual two-week-long cultural and religious celebration with dancing, music, and spectacular handcrafted paper maché and feather masks. Tlahualiles means "defeated warriors" and the festival celebrates the feast of Santiago Apóstol, or Saint James the Apostle, patron saint of Sahuayo. The battle depicted in the festival is still debated today in Mexico and refers to military conflicts before, during, and after the arrival of the Spanish. It is an evolving narrative of the confrontation between Europeans and indigenous populations and pagan and Christian beliefs. The procession of tlahualiles in 2014 included nearly one hundred groups of individuals and families, or over 600 people. Most have participated for generations in creating masks year after year for the past 50 years. After the festival, these dedicated artisans rest for one month before beginning on new masks for the following year.
The tlahualiles masks and traditional garments were brought to Riverside through a close collaboration between Sanchez, Cordova, and Francisco Sanchez, the mayor of Sahuayo, and the City of Riverside, beginning a new tradition in the Inland Empire. This year, the masks will come to the Riverside Art Museum in a retrospective of the making of the tlahualiles masks. The museum will lead the Riverside community through the construction process of the tlahualiles and has invited Sahuayan artisans to demonstrate the making of these exquisite confections of feathers, sequins, and color. This exhibition represents RAM's ongoing commitment to diversity and community engagement in the arts.
Other Event Dates
July 11, 5 – 9 p.m. @ White Park | Tlahualiles Festival
August 6, 6 – 9 p.m. | Mask Workshop
September 3, 6 – 9 p.m. | Dance Performance
To see tlahualiles in action:
Tlahualiles in Sahuayo, Michoacán:
Tlahualiles Festival in White Park in Riverside 2014:
This exhibition is curated by: Carolyn Schutten and Martin Sanchez