The Riverside Art Museum (RAM) celebrates the talents of four Chicana artists through "Son Cuatro: In Conversation", a new virtual program series presented via Zoom during June 2021. The first conversation is scheduled for Wednesday, June 16, 4 p.m., with Margaret García. Additional conversations are scheduled with Sonya Fe (Wednesday, June 23, 4 p.m.); CiCi Segura González (Saturday, June 26, 4 p.m.); and Judithe Hernández (Wednesday, June 30, 4 p.m.).
Part of RAM's continued programming leading up to the opening of its Cheech Marin Center for Chicano Art & Culture of the Riverside Art Museum, "Son Cuatro: In Conversation" is focused on sharing the work and the stories of Chicana/o artists, gaining their insights, and helping to inspire more community interaction in support of The Cheech. This inaugural series is made possible through the generosity of the Union Pacific Foundation.
Each artist conversation will be edited into a separate audio episode and compiled into a podcast series with the same name to be nationally syndicated later this summer and available through listening platforms such as Spotify, iHeart, and others. Listeners will be able to subscribe to the forthcoming "Son Cuatro: In Conversation" podcast through RAM's website at www.riversideartmuseum.org/soncuatro or wherever they listen to their favorite audio programs online.
PODCAST LINKS ARE NOW LIVE. SEE BELOW.
Each conversation will feature a guest host. In addition, the moderator of the series is Todd Wingate, Director of Exhibitions and Collections at the Riverside Art Museum. The producer of the series is Melissa Richardson Banks, the arts marketing specialist who has managed Cheech Marin's notable Chicano art collection since 2005. She has also worked with him to organize, market, and tour more than 13 exhibitions of works from his collection to over 50 museums nationwide and in Europe. Her firm CauseConnect celebrates its 20th anniversary of "doing business by doing good" in October 2021.
JUNE SERIES SCHEDULE
Margaret García on Wednesday, June 16, 2021, 4 p.m. (PDT): Margaret García says "her work provides a look at my community through the presence of the individual" and her desire is for her work "to be pertinent and meaningful." Although she does not consider her work overtly political, over time, she has come to realize that many of her portraits belies the stereotypes given to any one culture by the media. In addition to her portrayals of sensual women of mixed race, many of García's street scenes and landscapes depicting her neighborhood of Highland Park are in Cheech Marin's collection. A teacher and a mentor to many young artists, García studied at California State University, Northridge; Los Angeles City College; and the University of Southern California where she earned her Master of Fine Arts degree in 1992. Her work has been exhibited in group shows throughout the United States and in Europe, and she is published widely. García teaches and lectures extensively on art in different cultures. Her first solo museum exhibition opens this October at the Museum of Ventura County (www.venturamuseum.org). Learn more at www.margaretgarcia-artist.com. During the pandemic, García conceived her "Prayers" project and has been a mentor, inspiration, and champion for the team that now leads Prayers Worldwide. Visit www.prayersfromla.org.
Click here to listen to the Son Cuatro podcast featuring Margaret García.
Sonya Fe on Wednesday, June 23, 2021, 4 p.m. (PDT): Sonya Fe grew up drawing on the cement floors of her family's East Los Angeles home—an activity that her seven siblings, her Jewish-American mother, and her Mexican-American father fully encouraged. In 1976, she earned her Bachelor of Arts degree from Art Center College of Design in Los Angeles, California. Her paintings, which are recognized for their beautiful execution, focus on the plight of women and children. Fe has published children's stories and a drawing book, and is the co-founder of Publishing Children's Stories, a program for elementary schools that integrates literacy, art, and technology. Her work has been exhibited in museums and galleries throughout California; across the nation, including New York and Washington D.C.; and in Mexico and Japan. Visit www.sonyafe.com.
Click here to listen to the Son Cuatro podcast featuring Sonya Fe.
CiCi Segura González on Saturday, June 26, 2021, 4 p.m. (PDT): Primarily an abstract artist, CiCi Segura González also paints figurative work using oil, acrylic, and watercolor, and uses printmaking techniques to create woodcuts, etchings, and monoprints. She studied art at East Los Angeles College, working with artist mentors such as Roberto Chavez, Dale Maix, and Uli Boege. Like many Chicano/a artists, she printed at L.A.'s Self Help Graphics under the guidance of Sister Karen Boccalero and has taught at-risk youth. She has worked for many companies such as the Walt Disney Company as an in-house graphic designer, storyboard artist, fashion illustrator, and art director. For the annual Trópico de Nopal Calavera Fashion Show in Los Angeles, Segura González created costumes over the years in homage to art icons such as Rufino Tamayo and David Alfaro Siqueiros. Widely collected internationally, her artwork is also included in major U.S. publications and private collections. Check her feed for updates at www.instagram.com/cici.segura.gonzalez. Her work is featured on the cover of the catalog for the Papel Chicano Dos: Works on Paper from the Cheech Marin Collection, which is on view at the Colorado Springs Fine Art Center now through August 7, 2021. Learn more aboutSegura González at www.riversideartmuseum.org/exhibits/online-exhibitions/artist-stories-cici-segura-gonzalez/.
Click here to listen to the Son Cuatro podcast featuring CiCi Segura González.
Judithe Hernández on Wednesday, June 30, 2021, 4 p.m. (PDT): Judithe Hernández began her career in the early 1970s as a major figure of LA's Chicano Arts Movement, merging activism with her artistic practice. Originally gaining prominence as a muralist, she became the fifth and only female member of the art collective Los Four. Over the last five decades, she has developed a studio practice, which centers around pastel on paper, fusing Western and indigenous iconography with Mexican and Chicano themes. Hernández is included in many significant public and private collections including the Museum of Modern Art, the Smithsonian American Art Museum, the Pennsylvania Academy of Fine Art, the National Museum of Mexican Art, and the Bank of America Collection. Recent exhibitions include War Within, War Without, Museum of Modern Art, now on display through November 2021 and Life Model: Charles White and His Students, LACMA (2019). In 2016, twenty-four glass mosaic panels Hernández designed for the Downtown Santa Monica Metro Station were installed. Commissioned by the L.A. County Transportation Authority, the suite of panels is known as L.A. Sonata. Learn more at www.judithehernandez.com.
Click here to listen to the Son Cuatro podcast featuring Judith Hernández.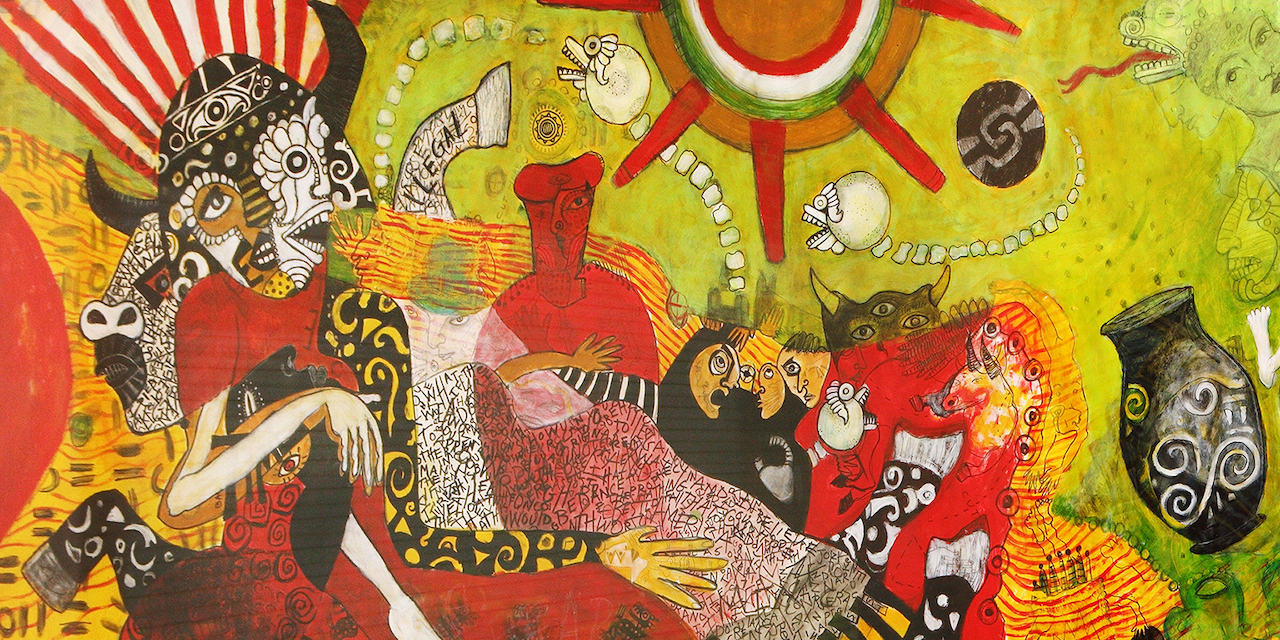 This program is brought to you by the generous support of: