Exhibition: May 11 – June 12, 2016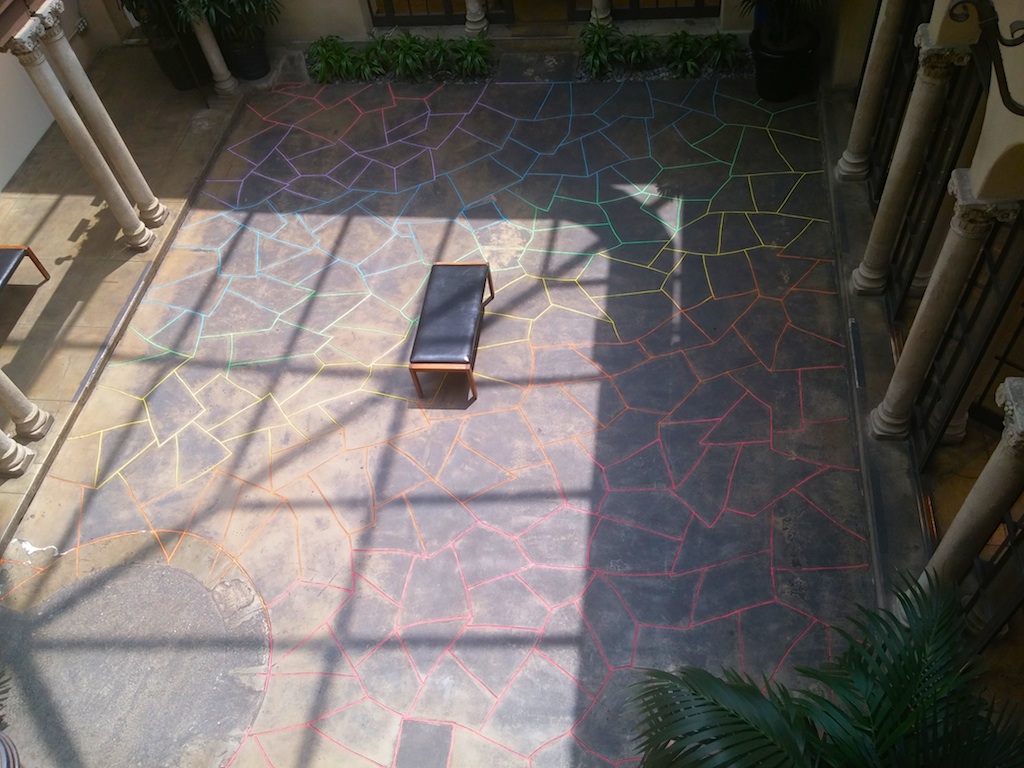 Opening Reception: Saturday, May 14, 2016, 2 p.m.
The Riverside Art Museum is pleased to announce the 2016 University of California at Riverside Masters of Fine Arts Exhibition, spotlighting the work of eight first and second year graduate students, facilitated by UCR Associate Professor of Art, Yunhee Min. These students work in various mediums, including: sculpture, painting, photography, video, and installation. Working towards the culmination of their thesis projects, they each approach their work with a unique voice, conceptual framework, and formal sensibility. All of the students in the exhibition are actively engaged in dialogue with an important lineage of artistic practice and the ever-evolving arena of contemporary art.
1st/2nd Year MFAs:
Julie Sadowski
I collect images primarily by photographing, but recently also by making videos and screenshots of videos (made by me or appropriated from the internet, movies, web cams, etc.), and by writing down memories, thoughts, and descriptions of random occurrences. My collection develops viscerally and intuitively rather than strategically. I don't have any parameters in terms of what and what not to record – everything goes.
Faced with the problem of the vast disorder of images and "the vast disorder of objects – of all the objects in the world – why choose (why photograph) this object, this moment rather than some other?" For me, a decision to capture is not made based on the importance of one thing over another; it has more to do with the appearance of things and what may be resembled or signified by that appearance.
I arrange images metonymically with an attempt for a collective meaning to be revealed through relationships formed between the images. These relationships are often generated by color, form, and by what is represented in the image. My work may be seen as a collection of short poems – fictional – yet built out of images that manifest physical properties of reality. I treat image making as though I am a writer-poet, yet I choose to work with images over words as I believe that they have an ability to validate something that is linguistically unexplainable.
Hollie Brown
Hollie Brown is an MFA candidate at University of California, Riverside. Her practice is multidisciplinary, currently in a state of flux.
"Well, hello there. My, it's been a long, long time. How am I doing? Oh, I guess that I'm doing fine. It's been so long now. But it seems now that it was only yesterday. Gee, ain't it funny how time slips away? I open up my door to greet the early morning sun. To the meadow I go walking in the early morning breeze. Time will take care of itself, so just leave time alone. Beside a garden wall, when stars are bright, just on the other side of nowhere."
Collaged lyrics by: Willie Nelson, Dolly Parton, Waylon Jennings, and Kris Kristofferson
Ashley May
Ashley May (b. 1984, South Deerfield, MA) is a multi-media artist living and working in Riverside, CA. She received a BA in Art from Wesleyan University, Middletown, CT, in 2007. Her work incorporates sculpture, painting, and photography and centers on questions of scale and gesture in relation to the landscape.
Ahram Park
I am the son of a Korean preacher rooted in the tall grass prairie of Kansas. I have a need to engage myself visually and physically with a thing I can't name, but it has to do with where I came from, where I grew up, and who I am. I want to make work that tells plainly of the mysteries I still find in the world, while also laying bare its secrets.
Ahram Park (b.1986, Pusan, Korea) is an artist based in southern California. He received his B.S. in Economics from Kansas State University in 2010 and is currently an MFA candidate at the University of California, Riverside. Ahram works primarily in photographic interventions and its relationship to the FLOW state. Recent exhibitions include the Kemper Museum of Contemporary Art, 1522 Saint Louis, and a solo exhibition at Haw Contemporary.
Joe Leavenworth
Joe Leavenworth (b. 1985) is a first year MFA candidate at UC Riverside working in photography. In 2014, Joe published his first photobook, Native Son, which traces his travels back to Georgia, seeking connection to this region where he was born. Most recently, Native Son entered the collections of the Norton Simon Museum in Pasadena, CA, and the Brooklyn Museum in Brooklyn, NY. Joe is currently editing his second photobook, Angel, which sprung from a chance meeting between photographer and subject in 2013. For two years, Joe hopped a bus from NYC to Boston to visit Angel, shadowing him on his night shift at JP Oil, listening to rock 'n roll cassettes in his home, and driving around Boston suburbs collaborating on photographs. Joe has exhibited in the US and abroad, and his photographs have been published in the New York Times Magazine, Oxford American, Fader, VICE and Mossless. After receiving a Bachelor of Fine Arts from the Maryland Institute College of Art in 2007, he moved to NYC and worked for institutions such as Pace/MacGill Gallery and the Whitney Museum of American Art. Joe has taught photography at the International Center of Photography, Cooper Union, and Maryland Institute College of Art. He currently lives in Los Angeles.
Anna Wittenberg
Anna Wittenberg (b. 1985, Houston TX) is an interdisciplinary artist based in Los Angeles. She received her BA in Media Studies at Pitzer College in 2008 and is currently working toward her MFA at University of California, Riverside. Coming from a background in moving image and critical theory, Anna primarily works in video, performance, and sculpture to interrogate facets of both contemporary and historical cultural practices.
Richard Corral
My paintings typically depict everyday spaces or constructed spaces made on the computer or from found images. They exist in a type of liminal space, often of imagined events that range from the banal to the ruinous, indirectly referring to the sensory overload of our over accumulation of images. While my subjects exemplify ideas of deterioration and futility, I try to redeem them by transforming them into rich visual experiences through the medium of painting.
Rick Bahto
Rick Bahto lives in Los Angeles. He has exhibited work utilizing still and motion picture photography, sound, and performance at a variety of museums, galleries, microcinemas, film festivals, conferences, alternative spaces, and scenic locations spanning the Northern Hemisphere. He has collaborated with and performed works by various composers, including Casey Anderson, Luciano Chessa, Julia Holter, and Mark So. Recent exhibitions include a commissioned moving image work on permanent installation at the Huntington Library in San Marino, a two-person mini-retrospective with Alee Peoples of small gauge films and performances at REDCAT, and performances for multiple cassette tapes on the Stupid Pills and Ear Meal series. Later this spring he will be presenting a photo installation with performances at the wulf. in downtown Los Angeles.
Additional Programming
Join UCR MFA students as they lead you through their exhibit, giving behind-the-scenes insights into the creation of their artwork. Free with admission or membership.
May 14: Ahram Park
May 21: Joe Leavenworth
May 28: Ashley May
June 4: Julie Sadowski
June 11: Rick Bahto