Exhibition: September 1 – October 4, 2015, extended until October 11, 2015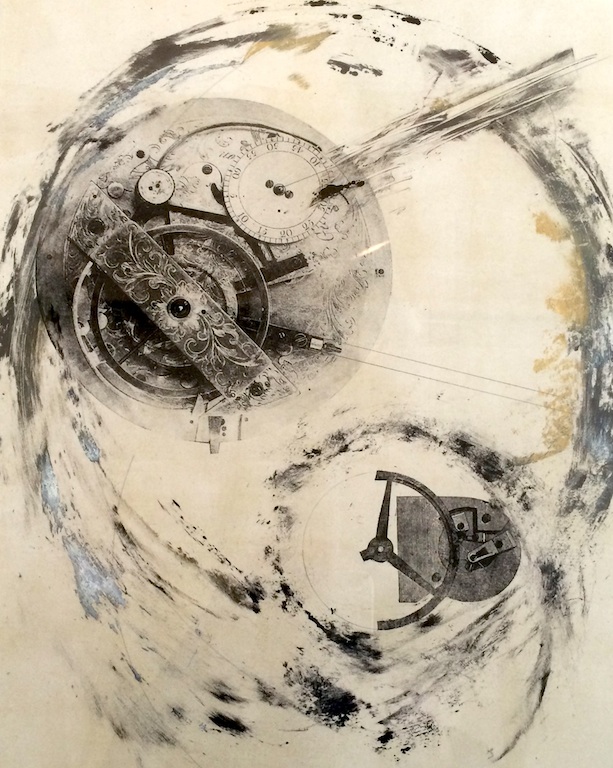 Featuring images of time pieces by Pierre Le Roy, the clockmaker to Louis XV, RAM presents a lithograph series titled It's About Time by Sarah Smith. A replica of an astrolabe (an ancient time-telling instrument) will also be displayed.
Smith lives and works in Riverside. Her work has been exhibited at the Riverside Community Art Association gallery, Division 9 gallery, and RAM over the years. Her work is also held in private collections.
Exhibit extended
The Riverside Art Museum (RAM) announces the extension of Sarah Smith: It's About Time though October 11, 2015. Longtime museum supporter and Riverside resident, Sarah Smith, debuted the series of new lithographs at the Riverside Art Museum back in September, focused on ancient timepieces, such as the astrolabe.
"My stepfather and his father were jewelers and watchmakers in Paris, France," explains Smith. "Among his possessions was a book with images of time pieces, many of which were designed by Pierre Le Roy, the clockmaker to Louis XV. One of the images was of an astrolabe. It was so strikingly beautiful that I found inspiration for my lithographic work. And as I discovered more about the astrolabe, I become engrossed in the remarkable technology of this ancient instrument."
Smith discovered a company in Germany who recreates astrolabes and had one shipped to be on exhibit as a reference point for visitors to learn more about her inspiration. She also found a TedTalk that sheds light into this ancient forerunner to the computer. Both the astrolabe and video are part of the exhibition.
"Sarah's exhibit is a great example of learning about decorative arts and history through the contemporary art process," says Drew Oberjuerge, Executive Director.
"The process for the monotype lithographs," says Smith, "is very precise and can take up to three weeks to complete."
Artist and printmaker Chick Curtis gives Smith accolades for her print process. "Saw these wonderful works in person," says Curtis. "They are wonderful. I hope the whole town comes down to see this show. The monotypes will not only be appreciated by the public in general for the aesthetics and beauty, but also by printmakers who will recognize the intricate, thoughtful, and skillful steps that Sarah took to make each one."
The art community has been inspired by Smith's work. "This is a striking exhibit on every level," says artist Sue Mitchell. "The work is interesting and perfectly presented. It is very interactive with lots to learn. This exhibit is a must see!"
As a result of this exhibit, two local eighth-grade students have been inspired to present special reports on timepieces and the astrolabe.